Awesome Special Weekend Rentals on All Bobcats / Excavators / Backhoes.... in North Vernon, Paoli & Southern Indiana!
CALL & RESERVE TODAY!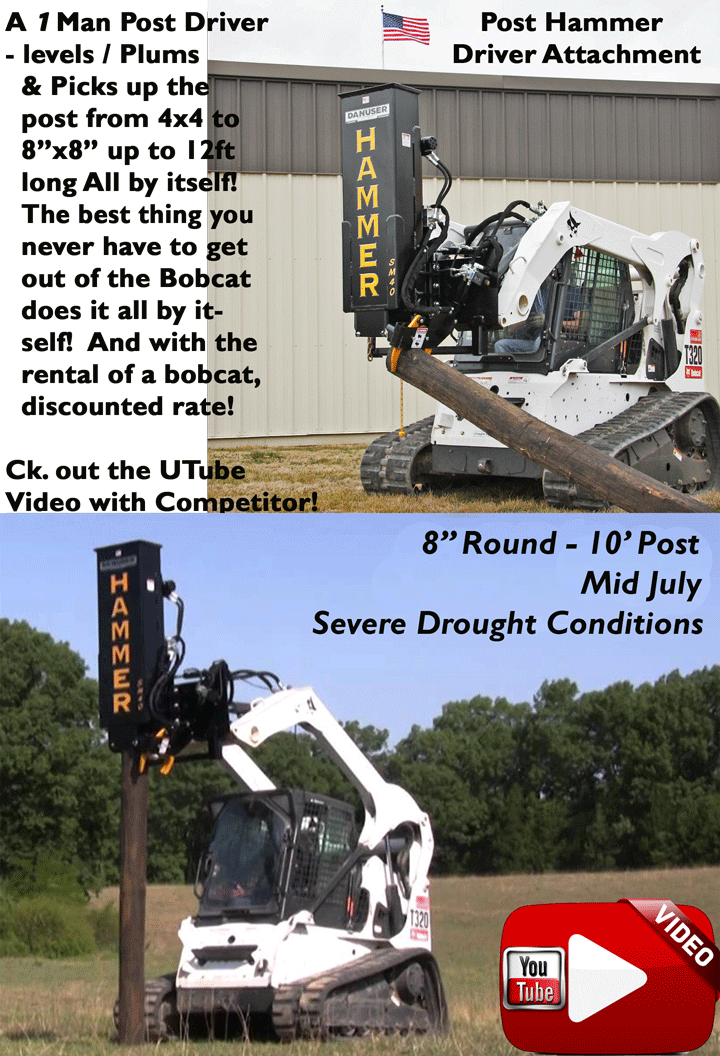 In this cartoon video is what really happened to me at age 19 - I talk about it at top - My Story
Tool Rentals on Bobcats/SkidSteers/Excavators/Backhoes in North Vernon / Paoli and Southern Indiana!
We rent a bobcat, skid steer loader, excavator, backhoe and much more construction equipment rental in great rental condition and have weekend specials in all southern Indiana areas including louisville ky. Also FREE Trailer rentals with the big equipment! Call Reserve Today! WEEKEND RENTAL DISCOUNTS: BOBCATS, MINI EXCAVATORS, SKIDSTEER LOADER RENTAL with grapple bucket attachments heavy duty / bale spear attachment / Auger Attachment with bits and even backhoe rentals and much more construction equipment rental for those jobs around the house or work site. Our areas of coverage would be jeffersonville indiana, new albany Indiana, north vernon indiana, paoli indiana, clarksville Indiana, seymour Indiana, columbus indiana, salem indiana, madison indiana, floyds knobs indiana, brownstown, orleans, jasper, north vernon indiana, sellersburg indiana, hanover indiana, charlestown indiana, hamburg indiana, southern indiana and the louisville ky areas. Here are a few pictures of the equipment for rent in north vernon indiana & paoli indiana.
Call Today - We are here to Help!








We rent tools or have a tool rental for southern indiana, clarksville indiana, salem, seymour indiana, louisville ky, brownstown and floyds knobs indiana. Rent an excavator, skid steer loader or backhoe with rental attachments for the backhoe, track hoes in louisville ky, sellersburg indiana, salem, clarksville, salem indiana, brownstown, orleans new albany indiana, jeffersonville indiana, columbus indiana, seymour indiana, jasper, north vernon, hamburg and louisville ky!


Areas of Coverage!!
| | | | | |
| --- | --- | --- | --- | --- |
| • marysville | • hanover | • georgetown | • lexington | • jeffersonville |
| • Madison | • paoli | • Orleans | • columbus | • greensburg |
| • Greensville | • sellersburg | • Clarksville | • Charlestown | • floyds knobs |
| • bethleham | • memphis | • brownstown | • new salisbury | • new albany |
| • ramsey | • bradford | • vallonia | • seymour | • floyds knobs |
| • commiskey | • marysville | • salem | • louisville ky | • palmyra |
| • hamburg | • sellersburg | • charlestown | • georgetown | • madison |
| • dupont | • new salisbury | • fredericksburg | • brownstown | • paoli |
| • hanover | • henryville | • scottsburg | • greensville | • borden |
| • clarksville | • jeffersonville | • new albany | • lanesville | • deputy |
| • pekin | • corydon | • orleans | • columbus | • floyds knobs |
| • louisville ky | • new albany | • salem | • jeffersonville | • sellersburg |
| • southern IN | • floyds knobs | • georgetown | • louisville ky | • clarksville |
| • jasper | • clarksville | • jeffersonville | • new albany | • floyds knobs |